TRUCK ACCIDENT ATTORNEYS IN SALT LAKE CITY, UTAH
If you or a loved one have suffered because of a truck accident in the state of Utah, don't hesitate to contact the personal injury attorneys at Jardine Law Offices P.C. today
Usually, truck accidents in Utah and across the United States are much more dangerous than car accidents due to the sheer size and weight of large trucks. Information from the Insurance Institute for Highway Safety states that approximately 100 people lose their lives in truck accidents in the US in just one day. Truck crashes are usually the most fatal of all of the accidents that take place. Despite who may be at fault for the crash, these traffic collisions almost always result in injuries for someone involved.
In the event that you or a loved one of yours has been involved and injured in a serious truck accident in Utah, it is in your best interest to contact a Utah truck accident attorney at your earliest convenience. Hiring a personal injury lawyer may be your only option to collect full and fair financial compensation for your injuries and losses incurred by your recent collision.
Truck crashes can sometimes require professional investigation due to the cause of the accident being difficult to prove. Once the cause has been determined, you may begin to build your case. At Jardine Law Offices P.C., our team is highly experienced in assisting our clients build strong, solid cases against trucking companies.
No one is ever completely prepared to deal with being injured in an accident, as they always occur in sudden and unforeseen ways. One can have a spotless driving record and be the most attentive driver, and still fall victim to a collision. All it takes is one small act of carelessness from another driver to totally change your life. Being involved in just one accident can result in catastrophic injuries that require expensive medical treatment and lifelong pain and suffering. On top of your injuries, you may be faced with significant damages to your vehicle and financial loss brought on by lost wages and piling bills.
The Salt Lake City personal injury attorneys at Jardine Law Offices P.C. are prepared to help you recover the maximum settlement available in order to cover the expenses associated with your truck accident. We will fight for your rights in the event that you believe that you or someone you love has suffered injuries due to another person's negligence. Utah is a modified comparative negligence state, however, which means that if you are found to be less than half at fault, you may be able to recover a partial damage award offset depending on the percentage you are found to have been at fault.
WORK ALONGSIDE A SKILLED UTAH TRUCK CRASH LAWYER
The skilled legal team at Jardine Law Offices P.C. is standing by and ready to assist you and your loved ones with your claim. Allow us to thoroughly investigate your case and complete the difficult tasks surrounding personal injury law so you don't have to. With years of handling complex claims and diligently fighting for the legal rights of our clients, we possess the vast experience necessary in order to provide you with an optimal legal outcome and the compensation that you deserve.
No matter what caused the accident, you may be entitled to significant financial compensation. Our successful legal team may be able to help you collect the financial recompense necessary to successfully recover from your injuries. Contact our law firm today in order to get started on your free consultation.
Jardine Law Offices P.C. IS DEDICATED TO SERVING YOU AND YOUR LOVED ONES
The lawyers at the Jardine Law Offices P.C. are aware that in order to understand the circumstances of an accident accurately and completely, it is crucial that it is investigated as soon and as thoroughly as possible. Evidence may be lost, memories may fade or change, and insurance companies may attempt to trick victims into settling for a meager compensation amount–one significantly lower than they deserve. They may also attempt to coerce victims into signing things they may not understand.
Our semi-truck crash lawyers in Salt Lake City will aggressively negotiate a full and fair financial compensation amount from the insurance companies. We will work to gather all relevant and important evidence that may be used to uphold your end of the story. We work to protect you and your loved ones from being taken advantage of by insurance companies.
An attorney who possesses the knowledge necessary to handle difficult cases is paramount when faced with serious injuries that were caused by another person's negligence or carelessness while on the road. Our Utah personal injury attorneys handle all cases with a personal touch. We treat our clients like family and understand that dealing with an issue of this magnitude can be overwhelming and stressful. This is why we are here to help, and passionate about removing the burden from our client's shoulders, in more ways than one.
We believe that those hurt in negligently caused accidents deserve compensation and justice, and work diligently to uphold that belief and make it a reality. We will personally see your case through to the very end, as we never hand our cases off to case managers and paralegals. We understand that being involved in a collision with a semi-truck is a very traumatic experience. We make it our mission to ensure that the legal process is as simple and straightforward as possible in order to allow you to focus on what matters most: your mental, physical, and financial health and recovery.
Suffering injuries in a semi-truck accident means that you may require the help and legal guidance of an attorney in order to successfully file a claim and collect financial compensation. Due to the complex nature of personal injury law and trucking accidents, you need someone who is willing to fight for your rights, and take your case to court if necessary. Drivers may be held liable for injuries in a semi-truck crash in the event that they acted negligently.
Negligence may result from the failure to complete the following:
Being aware of your surroundings.
Complying with any/all traffic laws/signs/lights.
Utilizing any reasonable means necessary in order to avoid a collision.
In a personal injury case, such as an injury-involved trucking accident, you may be eligible to receive financial compensation for things such as medical bills, out-of-pocket expenses related to your crash/recovery, lost wages, pain and suffering, among other losses. Non-economic damages may also be compensated depending on the circumstances of the accident. These may include loss of consortium, loss of life enjoyment, and punitive damages depending on the level of gross negligence demonstrated in the cause of your accident.
Our experienced Utah semi-truck crash attorneys have willingly dedicated their careers to providing protection and guidance to those who have been wrongfully injured in truck accidents, car accidents, pedestrian accidents, and more. Regardless of what caused your crash, the personal injury law firm of Jardine Law Offices P.C. in Salt Lake City is here to assist you and your family members obtain justice as well as a successful recovery.
In the event that you or someone you love has been hurt in an 18-wheeler or semi-truck crash in Salt Lake City or the surrounding areas, the Jardine Law Offices P.C. is fully ready and willing to fight for your legal rights, especially against the insurance companies. We always offer free initial consultations and work on a contingency fee basis, which means you pay us nothing unless our attorneys are able to recover financial compensation for the losses you may have incurred. Please get in contact with our office today in order to learn more about how we can assist you on your own personal path to recovery.
RECENT TRUCKING ACCIDENT STATISTICS IN UTAH
Nobody wants to be involved in a truck or car accident. Some of these collisions may prove to be more dangerous than others, however, and Utah truck crashes are some of the most fatal in the United States. Large truck crashes most often injure those in smaller vehicles. In order to better understand the serious dangers of truck collisions in Utah, we have included some recent statistics.
According to information provided by the National Highway Transportation Safety Administration, close to 5,000 people lost their lives in fatal crashes involving large trucks in Utah in 2018.
71% of the deaths were occupants of other, smaller vehicles
77% of fatal accidents took place on weekdays
A mere 3% of the large truck drivers involved in fatal accidents had a blood alcohol concentration of .08 or higher — significantly lower than the drivers of other vehicle types.
Semi-truck drivers are less likely to have previous driver's license issues, like suspension, than other drivers involved in fatal accidents.
Semi-truck drivers usually have previous crashes on their driving records, as opposed to the drivers of other vehicles.
2018 UTAH TRUCKING ACCIDENT STATISTICS:
9% of large trucks in Utah were involved in deadly accidents – some US states had percentages as low as 2.4%
376 total vehicles involved in deadly accidents
34 of which involved a large truck
CONCLUSIONS DRAWN FROM THE STATISTICS
Smaller vehicles involved in accidents with large trucks are more likely to become seriously damaged or totaled, and their occupants are more likely to sustain catastrophic or fatal injuries. Large commercial trucks may weigh as much as 20-30 times more than smaller passenger vehicles. The significant weight difference often causes extreme damage.
Truck drivers do not need to be intoxicated to cause serious bodily harm or even death. They are much less likely to be intoxicated on the road as they are usually on the job. Whether they are intoxicated or not, the massive size of their vehicles often results in serious injury or death when involved in an accident.
Truck drivers often have previous accidents on their driving records. The statistics show that truck drivers usually have more traffic accidents on their driving records compared to other vehicle operators, like the drivers of cars or buses.
HURT IN A UTAH TRUCK CRASH?
Utah truck crash victims are often seriously or catastrophically injured. In the event that you or someone you love are currently suffering from serious or catastrophic injuries sustained in a negligently caused truck accident in Utah, call our law firm at (801) 396-9993. Our skilled and seasoned Utah truck crash attorneys are waiting to take your call. Help is just a phone call away.
If you have been hurt in a truck collision in Salt Lake City, no matter the contributing factors of the crash, you may be entitled to claim significant financial compensation and damages for the injuries and property damage you may have endured. In order to file a claim and get on the road to financial, physical, and emotional recovery, the legal guidance of the attorneys at Jardine Law Offices P.C. is always in your best interest. In order to schedule a free consultation with a motorcycle accident attorney in Utah, contact our law firm at (801) 396-9993.
With the lawyers at Jardine Law Offices P.C., you are never alone. Our aggressive and experienced truck accident attorneys have assisted a large number of injured victims secure financial compensation. We represent clients throughout Salt Lake City without charging upfront fees. Our firm only requires payment if we recover compensation on your behalf. Contact our law office today to get started on your own personal path to recovery.
We are passionate about helping those injured in negligently caused accidents get the justice and financial compensation they deserve. You should never have to face such a daunting issue on your own, which is why we are here to help. Call us at your earliest convenience to inquire about your right toward financial compensation for your injuries and losses.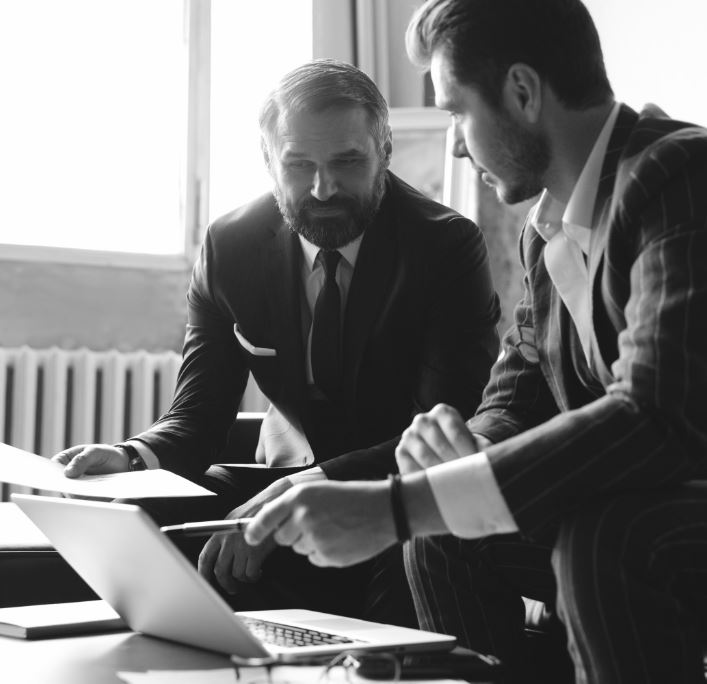 I felt like a priority from the beginning and highly recommend their counsel.

"Everyone was extremely helpful and I was able to talk to Joseph immediately after calling. He provided me with excellent advice and information for my case. I felt like a priority from the beginning and highly recommend their counsel."

They are honestly the best attorneys ever.

"I have been represented by Joseph and Peter 3 times already. They are honestly the best attorneys ever. They were really helpful and got me the best deals. They are really flexible and informative... 100% would recommend to anyone from small claims to criminal cases!"

Joseph and Peter are definitely who you want on your side.

"My family and I are so grateful for the hard work and talent that all was offered in my behalf. Having a scary situation made light by trusting in this law firm was the best decision my family and I made. They were always so prepared and confident. They were always kind and took the time to help me understand what was going on every step of the way. Joseph and Peter are definitely who you want on your side. You can be confident in their intelligence and ability to fight for you."
Work With Highly Skilled & Experienced Attorneys
Phone & Video Conference Services for Clients Who Prefer to Meet Remotely

We Offer Free Consultations - Se Habla Español

We Have An Aggressive and Comprehensive Approach For Each Case

Our Firm Has Been Serving Clients Since 2000

We Conduct Thorough & Complete Investigations
Get StarteD With A Free Consultation